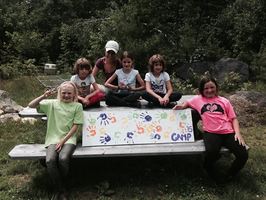 Camp

FHE currently runs 1-2 weeks of summer camp. Camp is open to both current and new students ages 6+. Camp is a great way to learn all aspects of horse care in a short amount of time and make new friends.
A typical day of camp looks like:
9-10 Barn chores
10-11:30 Ride
12-1 Lunch and crafts/games
1-2 Mounted games
3- Pick up
Campers will learn about many different types of riding, breeds of horses, names of equipment, etc. We do not stick to a tight schedule to allow for plenty of learning and fun if campers would like to do more of a certain activity.
Full and half days available. $65 per full day, $255 for the week (4 days).
2017 Camp Dates-
July 24-27
July 31- Aug 3
Aug 21-24
Registration Form
---
---
Clinics

FHE periodically will hold mini clinics, open to both students and non-students. These mini clinics focus on certain aspects of horsemanship that you may not learn during traditional lessons. They are meant to be a low key way to expose both you and your horse to new things.


Topics for mini clinics include:
Ground work
Round penning
Long lining
Spooky obstacles
Jump course design
Trailer safety and loading

FHE also holds numerous dressage and jump practice nights throughout the summer. These are open to both students and non-students. They are a fun, stress free way to practice your tests and get used to the pressure of the show ring.


Emily is available to hold mini clinics at your farm, or she would be happy to set up a more traditional dressage or jump clinic with you!